Fried Yuba Pockets with Camellia Oil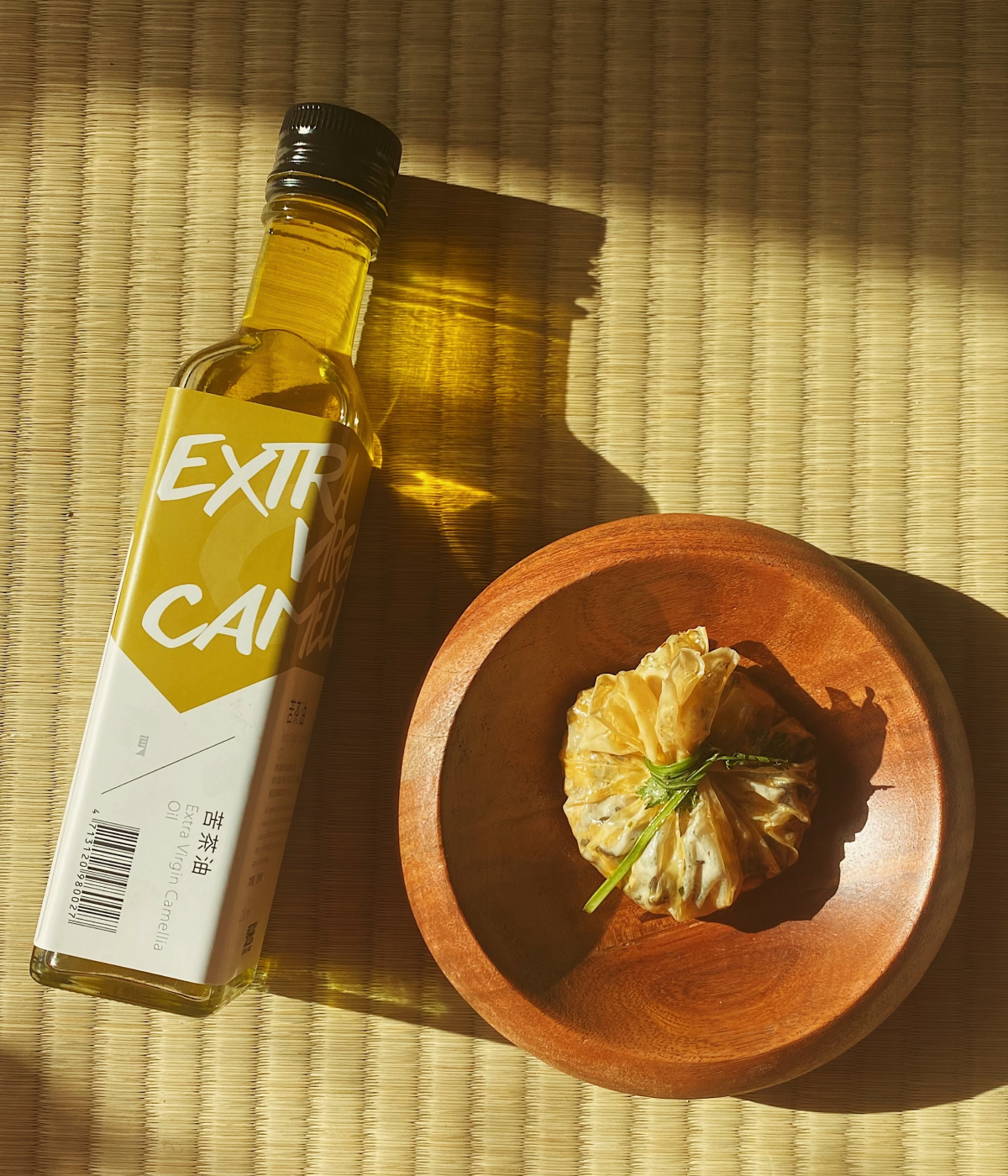 We've been following Zoey Xinyi Gong since we started Yun Hai. She's a Traditional Chinese Medicine practitioner and founder of Five Seasons TCM, our preferred source for Chinese herbs (like freeze-dried hawthorn berry whatttttt):
Five Seasons TCM is a POC-women-owned boutique wellness brand. We are here to share and modernize the knowledge of Traditional Chinese Medicine (TCM) food therapy through educational content, functional products and its' avant-garde aesthetic.
Zoey is also an educator, and presents recipes that illustrate how to cook balanced and beautiful meals that embody TCM principles. Here, she shares a recipe that makes use of Dong He camellia seed oil, a highly versatile and nutritious oil with a similar lipid profile to olive oil (yes to healthy fats) and a high smoke point (for all the deep frying). It makes use of two of our favorite ingredients: organic Goji Berries and Wood Ear mushroom, both available from Five Seasons TCM.
Fried Yuba Pockets with Camellia Oil by Zoey Xinyi Gong
Serves 6
In this recipe, we made delicious pouches with yuba, which is bean curd skin, and resembles and replaces rice paper rolls or puff pastry. Inside it contains a mouth-watering filling that makes you feel nourished. We shallow-fried these pouches in extra virgin camellia oil, an excellent frying oil that not only is cold-pressed but also has a high smoke point. It imparts a pleasant herbal taste to the dish that works really well with the plant-based filling. In addition, the extra virgin camellia oil pairs with black wood ear and goji to lower high blood cholesterol and contribute an abundance of antioxidants to our body. A little patience is required for the delicate assembly of these pouches, but you'll be glad when it's time to eat.
Ingredients
2 tablespoon dried black wood ear mushrooms, soaked overnight
12 pieces 7"x7" dried yuba sheets
1½ king trumpet mushrooms, diced
1 small carrot, diced
1/2 block of firm tofu, broken up by hand
4 sprigs cilantro, minced
1 tablespoon soy sauce
1/4 teaspoon white pepper
1 tablespoon goji berries
1 tablespoon nutritional yeast
12 individual stems of cilantro, blanched to soften
1/2 cup extra virgin camellia oil
Method:
Soak yuba in water until slightly soft.
Chop soaked black wood ear mushrooms. Mix all veggies and seasoning in a bowl.
Take 1-2 soaked yuba sheets and fill each with ⅓ cup filling. Gather into a pouch and tie with a cilantro stem. Be gentle :)
In a pan with medium heat, heat camellia oil. When the oil is sizzling, place the pouches onto the pan and pan-fry. Continuously spoon hot camellia oil over the pouches. When the pouches are slightly browned and crispy, take them out of the pan and place on some paper towels to absorb excess oil.
---
Zoey Gong is a Traditional Chinese Medicinal (TCM) chef and nutritionist. Born in Shanghai, China, she grew up with the wisdom of medicinal cooking. She now resides in New York City, where she hosts pop-up medicinal dinners and educates the public on TCM food therapy. With a background in both western and eastern clinical nutrition, she founded Five Seasons TCM in 2021, a boutique wellness brand that shares and modernizes the knowledge of TCM food therapy.