Winter Melon Chicken Soup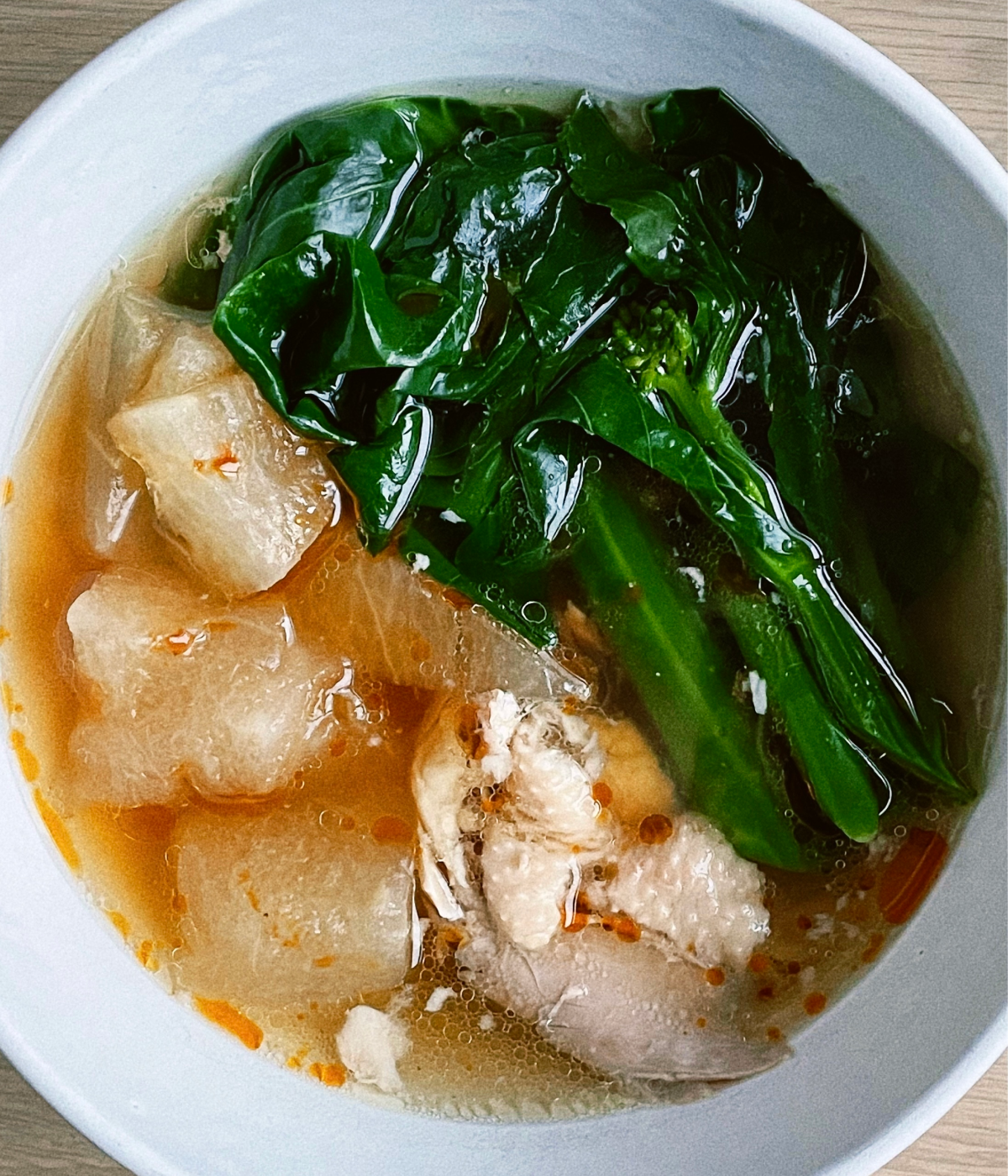 Here is a simple winter melon chicken soup that's garnished with some quick blanched Yu Choy and drizzled with a teaspoon of soy sauce and black sesame oil.
Winter Melon Chicken Soup by Cat Yeh
Ingredients
1 small old hen or 土雞. ~3lb 
10 slices of ginger, washed and sliced
1 stalk of scallion, washed with ends on
1 cup of rice wine
10 cups of water
Salt (to taste)
1 lb winter melon, trimmed of outer skin and sliced in to 1/2" thickness.
1/4 teaspoon white pepper
1/2 teaspoon Dong He Black Sesame Oil
1/2 teaspoon Amber River Soy Sauce or Vat Bottom Soy Sauce
Su Chili Crisp (optional)
finely sliced scallions or torn cilantro, to garnish (optional)
Instructions
Wash the chicken and pat it dry with a paper towel.
Place the chicken in along with the washed and cut winter melon, ginger, scallion, rice wine, water and a pinch of salt.
Bring the soup to a boil then cover and turn down to a simmer for 40mins.
Carefully remove the chicken from the pot (turn off the heat while doing this). The meat should be tender and falling apart. Shred and reserve on the side. Discard any bones.
Check to see if the winter melon is done. It is ready when it looks translucent. Otherwise cook for another additional 10-15mins covered.
Add in the white pepper and adjust seasoning if needed.
In a serving bowl: ladle in the soup, top with blanched Yu Choy (or preferred vegetable), shredded chicken, and drizzle with black sesame oil and soy sauce. Optional to add in chopped scallions, cilantro, and some chili crisp.
Recipe by Cat Yeh